News
The Paperback version of Heather's book is Now Available on Amazon!
September 17, 2018
The paperback version of Heather's book is now available on Amazon. Click here to order your copy.
Please be sure to contact Heather if you will be featuring her book in your book club, church group, mother's group or DV group. She will be happy to speak at your group meeting. Thank you!
---
Heather's Book is Now Available on Amazon!
July 24, 2018
Heather's book is published and ready to download on Amazon through Kindle today! This is her true story of survival, heroism, and pursuit of justice.
Click here to get this on Amazon.
---
Crime Watch Daily Feature
December 16, 2015
Heather's story was featured on Crime Watch Daily, which her sons were also interviewed for. (Below is a photo of her sons at the interview for this feature). Please click here to see the story!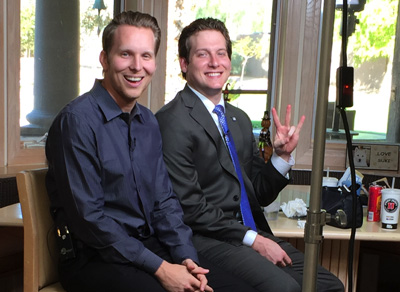 ---
Heather's Book is Coming Soon
August 12, 2014
Good news! Heather's book is finished, and she is currently looking for a publisher. We will let you know once it's ready!
---
Watch Heather's 48 Hours special, "The Puppet Master"
---
"Paralyzed In Paradise" by Heather Grossman
March 31, 2013
This autobiography written by Heather Grossman will be inspirational to women and families. Her story has been told on 48 Hours Mystery and Dateline NBC. After many letters of encouragement she decided to publish her story and tell it all.
---
Heather Featured in the Arizona Republic
June 10, 2012
Heather Grossman is a Valley woman who experienced domestic violence in two marriages. She was shot in the neck in 1997 by a man hired by her first husband after their divorce and custody fight; the injury paralyzed her from the shoulders down. In this article, Heather talks about her experience.
---
Heather's Haven of Hope
February 19, 2009
Heather just launched Heather's Haven of Hope, a foundation that assists domestic violence shelters in Arizona. The purpose of the foundation is to provide assistance to victims of domestic violence and to educate the public on issues relating to domestic violence and its victims, including children of the victims of such violence. Please visit the site to learn more about the foundation.
---
Shooting Victim Heather Grossman Helps Others See Beyond Life's Struggles
April 27, 2008
Recently, Heather's amazing achievements and cause were recognized by the United States President himself. Ms. Grossman was nominated by Senator Jon Kyl, R-Ariz., to meet with President Bush at the Oval Office in Washington, D.C. on November 6, 2007.
---
NRU August College Presentation
April 27, 2008
Special Guest Heather Grossman, a mother, mentor, survivor of domestic violence, winner of the Ms. Wheelchair Arizona Pageant, and first runner up in the Ms. Wheelchair America Pageant, shared her heart-warming, amazing story of tenacity, unfortunate circumstances, overcoming the odds, and her devotion to changing others' lives.
---
Heather's Going to the White House
October 26, 2007
Update: Read about Heather's visit to the White House here.

Heather just received notification that she is invited to the White House in Washington D.C. on Nov. 6, 2007 to meet with President Bush in the Oval Office for a closed door meeting followed by a photo-op. She will be discussing domestic violence and people with disabilities.
---
Heather Featured on Arizona's Channel 12 News
October 04, 2007
Kevin Kennedy at Channel 12 News in Arizona talks talks about Heather's story.
---
Even a Little Goes a Long Way
September 25, 2007
Since Heather's new website launched on September 21 with the Paypal Donation Options, Heather's family has received a total of $95 in donations. We are hoping that this amount will increase significantly, but Heather's family is grateful for anything they can get.
---
Heather Featured in Predators Article
September 21, 2007
Predators Survivor Hero
"To say that Heather Grossman is an amazing woman would be an understatement. In 1997, Heather's ex-husband hired men to kill her in a drive-by shooting in Boca Raton, FL. Even though her divorce was finalized two years earlier, her ex-husband continued to follow, have others trail, harass, and continuously make death threats to Heather." - From the Predators Newsletter. Read the full article at Predators.tv.
---
A Brand New Website
September 20, 2007
We just launched a brand new site! Thanks for stopping by to see it. We hope you like it.
---
How You Can Help

Heather Grossman's ex-husband hired a man to kill her in 1997. He was not successful in his attempt to take her life, but the gunshot wound left Heather paralyzed from the neck down. Heather was just 31 years old with three young children. During the years since the incident, Heather's family has been doing everything they can to keep her alive and well, but expenses are high, and they need as much help as they can get.
Since Heather's new website launched on September 21 with the Paypal Donation Options, Heather's family has received donations from quite a few generous people. Please take a moment to see who has donated to Heather's family so far.

My Story

I'm a mother, mentor and a survivor of domestic violence. Ten years ago domestic violence forever changed my life and the lives of my family. As the bullet penetrated my spinal cord, it shattered many hopes, dreams and my ability to function as I once did but it did not destroy me or my will to live. Ten years ago my ex-husband, Ron Samuels, hired men to murder me. I died at the scene of the crime but was brought back to life by a paramedic.